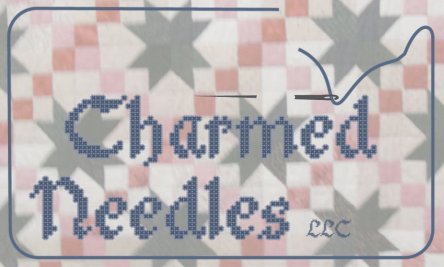 COVID-19 (Coronavirus) Update
We take your health and safety seriously

Because of our serious concerns for your health and safety and because of recent orders from Oregon Governor Kate Brown, we want to let you know what we are doing to mitigate coronavirus in our shop.
Because groups of 25 people are prohibited, the Saturday Sampler meeting scheduled for March 21 is cancelled. Here's how you can still get your March block for free:We will re-evaluate in early April to decide if Saturday Sampler meet on April 11, as currently scheduled.

During the week of March 21-27, bring in your completed February block, and I will still give your your March block for free.
If you feel safer staying home, send me a picture of your completed block, either by email or by posting on the Charmed Needles Facebook page, I will mail your March block to you at no charge.

We are temporarily suspending all other gatherings: Open Sew, Quilt Till You Wilt, Lace Day, and any other gatherings through the end of March. These events don't have as many people coming, but the people who do come often stay for several hours. If one of those people happen to have the virus and don't know it, by staying for several hours, they will have most likely infected the rest of us! We will re-evaluate these gatherings on a month-by-month basis. Hopefully we can resume these gatherings soon.

We are not closing the shop, but we are taking precautions, and are asking your help to keep the shop free from the virus:

Multiple times a day, we are disinfecting all surfaces which are frequently touched: counters, door handles, tables, desks, etc.

We have multiple bottles of hand sanitizer available for use by everyone.

If you want to come in and browse, please feel free to do so.

If you know exactly what you want, we encourage you to call ahead and tell me what you want. I will do my best to have it ready for you to simply come in, pay, and leave, if you choose.

You may also, of course, order on the website, if the item you want has been put on the website and you may opt to either pick that order in the shop or have me ship it to you.

In order to help you maintain your social distance from people, if you come to the shop and you see that there are already 5 or more customers in the shop, for your own safety, we encourage you to wait in your car until someone leaves.
Please remember that during this time, there are people who are feeling very isolated. Please be compassionate and reach out to them when you can. A phone call will work wonders. Together we will get through this and come out as a better community at the end.
Happy Stitching!
Christina Barron
541-889-6215
---
Store Hours:
Tuesday-Friday 10am-5:00pm
Saturday 10am-4pm
This message is sent from an unmonitored email address. Please do not reply to this message. If you wish to get in touch with us, please use the contact info above.