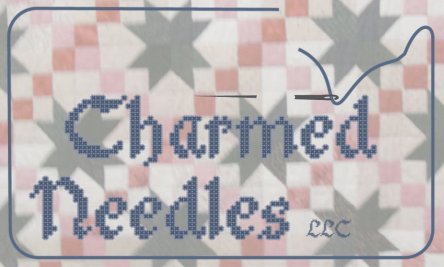 Charmed Needles News July 2021

COVID Restrictions Lifted!
Return to Normal, Unmask If You Want, and Come Together in Groups Again!
Open Stitch will resume on Friday, July 2. Bring any fiber arts project and come down to the shop to work on it. Open Stitch is every Friday during business hours.

On the third Friday of most months, we extend Open Stitch late into the night and call it Quilt Till You Wilt. We will stay until the last person leaves. Bring one or several fiber arts projects and come socialize through the night. Feel free to bring food to share, as well.

Join us on the Second Tuesday of each month to make lace! All types of lace: Bobbin Lace, Tatted Lace (both Shuttle and Needle), Knitted Lace, and Crocheted Lace. All skill levels are welcome, we usually have some skilled lace-makers here who are willing to teach beginners. There is no charge for this social lace-making event.
Display Your Quilts in the Shop!
W
e love your quilts! We are in need of quilts to display in the shop and to inspire other quilters. If you would like to loan us any of your quilts to display, please bring them down! They do not have to be completed quilts, just the quilt tops are fine. Nor do they have to be bed-sized quilts. Small quilts and table runners are great, too. All levels of complexity and expertise are welcome. You decide how long to display your quilt, too. We would love to hang it for anything from a few weeks to several months. Please do make sure your name is securely on your quilt so we will know who it belongs to.
Welcome Back to the Shop!!
---
Store Hours:
Tuesday-Saturday 11am-5:00pm
Other days and times by appointment
This message is sent from an unmonitored email address. Please do not reply to this message. If you wish to get in touch with us, please use the contact info above.